Students celebrate their First Holy Communion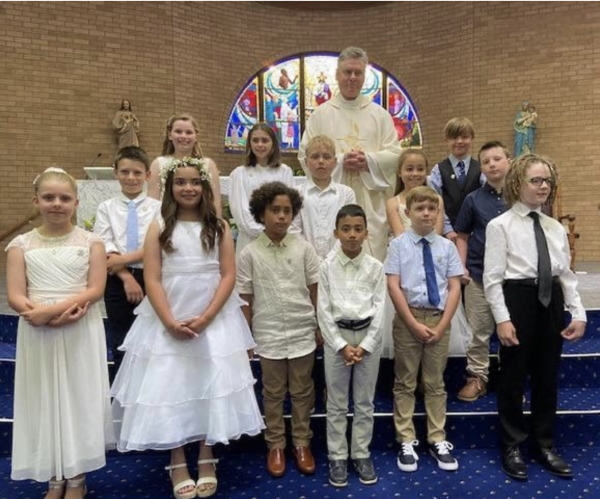 Some of the most precious moments in a child's faith journey are those of their First Holy Communion. We were blessed to be witnesses to this on Sunday.
Congratulations to all the children who made their First Holy Communion last Sunday. One has to prepare carefully for such golden moments, or they glide away before one knows they have arrived.
The children were a credit to their parents, in the way they were prepared and in how they participated in the ceremony.
Thank you to the Liturgy Group and Miss Abotomey. Miss Abotomey not only sang and played but used her great skills to record the students singing for the Mass, their voices added to the beauty of the ceremony.
Great credit is due to all these children who serve throughout the year giving up lunchtimes to help in sacramental liturgies.
Thank you also to Mrs Leonie Dunlop for the incredible work she does for our parish. The display of flowers on the sanctuary was magnificent and all her work in the church garden added to the beauty of the day.
Our school and parish communities appreciate all of the hard work that was carried out in the preparation for the Sacrament. The goodwill of all our staff is a massive asset to our school community.